One in five American baby boomers have gifted, loaned or co-signed a loan to their children or grandchildren for a down payment on a home, this according to the latest survey commissioned by Better Homes & Gardens Real Estate and Research Solutions Inc.
"Our data shows that they (baby boomers) are using what they've earned and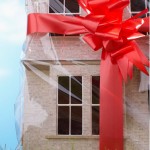 what they've learned to invest in the future and help their children and grandchildren realize the American dream of homeownership," Sherry Chris, president and CEO of Better Homes and Gardens Real Estate LLC, said in a press statement.
The survey also shows that more than two-thirds or 68% of all baby boomers want to provide future financial support for their children or grandchildren to purchase a home.
In the article "First-time buyers lean on the bank of mom and dad" published on Reuters, Jane Hodges wrote, "But industry observers think the level of parental generosity is even higher, with some giving children money for home purchases so far in advance of a loan application that the gift isn't disclosed to lenders, or, if they've got the resources, buying homes outright for their adult kids and setting up an after-the-fact intra-family loan agreement."
A recent Yahoo! Real Estate survey shows that owning a home is still part of the American dream. Four out of five or 81% of the 1,545 U.S. adults polled in the recent Yahoo! survey say that they want to own a home.
"The study finds that optimism about homeownership is widespread despite the massive downturn that has so far claimed six million homes in foreclosure and threatens to sink even more in the future," Yahoo! Real Estate survey says.
"With record low mortgage interest rates and bargain home prices, NAR's housing affordability index shows that a median-income family can easily afford a median-priced home," National Association of Realtors (NAR) President Moe Veissi said in a statement.
NAR report shows that first-time buyers accounted for 35 percent of transactions in November 2011, an increase by 34% in October and 32 percent in November 2010.
Whether you are a first time buyer, first time seller, empty nester, thinking about selling or buying a home, do contact the Guldi Real Estate Group. In Southern Maryland, the Guldi Real Estate Group is the number one real estate team.