Lender Processing Services, Inc. (LPS), a provider of data and analytics to the mortgage and real estate industries, recently released its March "Mortgage Monitor" report showing foreclosure sales at its lowest since December 2010.
LPS data shows that foreclosure sales in March totaled 67,890, down by 8.5% on a monthly basis.
The report of LPS is similar to the report of CoreLogic showing that there were 69,000 completed foreclosures in March 2012 compared to 85,000 in March 2011 and 66,000 in February this year.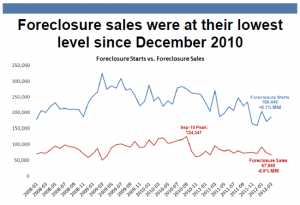 Since the start of the U.S. financial crisis in September 2008, CoreLogic reported that there have been close to 3.5 million completed foreclosures.
The March LPS report further shows that newly started foreclosures were up by 186,446 or 8.1% on a monthly basis.
"However, despite the increase, the number of first-time foreclosure starts in March was still far below those seen throughout much of 2011 and all of the previous three years," LPS said in a statement.
Herb Blecher, senior vice president at LPS Applied Analytics told the Wall Street Journal, "What we're seeing so far in the data, it doesn't amount to a flood. There are regional bursts of activity here and there, but not that wave of foreclosures that people were expecting."
Whether you are a first-time home buyer, first-time home seller, empty nester, thinking about selling a home or buying a home, do contact the Guldi Real Estate Group. In Southern Maryland, the Guldi Group is the number one real estate team.