Home prices will decline only a little this year and home prices will bottom by 2013, this according to the June 2012 Zillow Home Price Expectations Survey.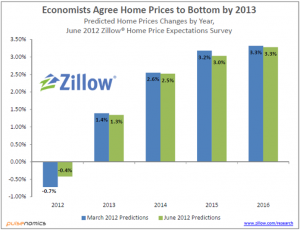 "This is the first time the individual economists surveyed were largely in agreement on the trajectory of home prices nationally, signaling that a true bottom may be imminent," Stan Humphries, Chief Economist of Zillow wrote in the company blog.
The June 2012 Zillow Home Price Expectations Survey was conducted from more than 100 individuals composed of economists, real estate experts, and investment and market strategists.
The survey consensus shows that home prices will fall a little this year, declining by 0.4% for the entire year and will increase by 1.3% in 2013.
This latest survey is the 14th edition of Home Price Expectations Survey conducted by Pulsenomics LLC on behalf of Zillow.
Whether you are a first-time home buyer, first-time home seller, empty nester, thinking about selling a home or buying a home, do contact the Guldi Real Estate Group. In Southern Maryland, the Guldi Group is the number one real estate team.