From the start of the U.S. financial crisis in September 2008, CoreLogic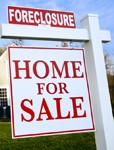 reports that approximately 3.4 million foreclosures have been completed.
In the past 12 months ending in February 2012, the total number of completed foreclosures nationally reached 862,000, CoreLogic reports.
CoreLogic, a provider of property information and analytics, continues that almost 3.4% of all homes with a mortgage or 1.4 million homes were in the foreclosure inventory as of February 2012.
This February 2012 foreclosure inventory data is lower compared to the February 2011 data with 3.6% or 1.5 million. This February 2012 data is also similar to the January 2012 data with 3.4% or 1.4 million homes in foreclosure inventory.
CoreLogic adds that 65,000 foreclosures were completed nationally last February.
These 65,000 completed foreclosures last February was lower compared to February 2011 data with 66,000 completed foreclosures; lower as well compared to the January 2012 data with 71,000 completed foreclosures.
In a statement, Mark Fleming, chief economist of CoreLogic, says, "Even though the pace of completed foreclosures has slowed, the overall foreclosure inventory is decreasing because REO sales were up in February."
The chief economist of CoreLogic continues, "With the spring buying season upon us, the inventory may decline further as the pace of distressed-asset sales rises along with the rest of the housing market."
For his part, Anand Nallathambi, president and CEO of CoreLogic, in a statement says, "In February, more than 60 major markets saw a decrease in their foreclosure rates compared to a year ago."
"This combined with faster REO-clearing rates, better employment news, and continued historically low interest rates are all positive signs of improvement in the housing economy," Nallathambi adds.
Whether you are a first-time home buyer, first-time home seller, empty nester, thinking about selling a home or buying a home, do contact the Guldi Real Estate Group. In Southern Maryland, the Guldi Group is the number one real estate team.