Young adults living with their parents in the U.S. is not anymore uncommon. In fact, this living arraignment has become so widespread in the recent years.
According to the Census Bureau, 4.4 million U.S. households gave roof to multi-generational family households in 2010. This data is a 15% increase from the 3.8 million households two years before.
In analyzing the Census Bureau data, Pew Research reports that this multi-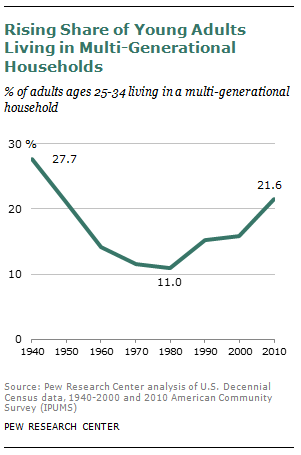 generational family household phenomenon is the highest since the 1950s and significantly increased in the last five years.
Young adults between the ages of 25 to 34 are among the most likely to be living in multi-generational households, the Pew Research report shows.
"The share of 25- to 34-year-olds living in multi-generational households was at its lowest in 1980 (11%) and has risen steadily since then, spiking upward since the recession started in 2007," Pew Research report continues.
"One reason young adults who are living with their parents may be relatively upbeat about their situation is that this has become such a widespread phenomenon," Pew Research report says.
Twenty-nine percent or three in ten parents of adult children report that because of the economy, their child has moved back with them in the last few years.
Steve Melman, Director of Economic Services for the National Association of Home Builders, told CNN Money that the recession has caused "doubling up to save money."
The long-term effect of multi-generational family households is that more families will want to live in bigger homes with more bedrooms to accommodate family members moving backed in, Melman says.
Whether you are a first-time home buyer, first-time home seller, empty nester, thinking about selling a home or buying a home, do contact the Guldi Real Estate Group. In Southern Maryland, the Guldi Group is the number one real estate team.