Researchers from The Urban Institute, University of Southern California and National Association of Realtors (NAR) recently released their "Demographic Challenges and Opportunities for U.S. Housing Markets" report.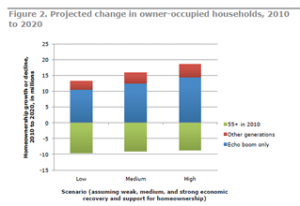 The report which was submitted to the Bipartisan Policy Center as background for the Housing Commission shows that over the next 20 years, the aging baby boomer generation will enlarge the U.S. senior population by 30 million.
This swelling of the senior population means that seniors will contribute increasingly to housing supply as people over the age of 65 usually release much more housing than they absorb, the report says.
"Just as the Baby Boom will swell the number of seniors in the next two decades, it will also swell the number of dwellings released into the housing market over the next four decades, creating new challenges and opportunities for housing policy," the report continued.
Researchers from The Urban Institute, University of Southern California and NAR added, "The increase is likely to be felt most acutely in the housing markets of the Northeast and Midwest, where the number of older homeowners seeking to sell their homes already accounts for a large share of the houses bought by younger homebuyers."
In a statement published on NAR website, NAR Chief Economist Lawrence Yun said that this increased of housing supply could mean additional home buying opportunities for echo boomers – those born between 1981 and 1995.
For his part, NAR President Moe Veissi noted that as housing affordability is at a record high, "For buyers who qualify and are ready to assume the responsibilities of owning a home, opportunity is knocking."
Whether you are a first-time home buyer, first-time home seller, empty nester, thinking about selling a home or buying a home, do contact the Guldi Real Estate Group. In Southern Maryland, the Guldi Group is the number one real estate team.