Maryland Attorney General Douglas F. Gansler announced last Thursday that his office, together with the Federal government, has entered into a $960 million mortgage servicing settlement with the nation's five largest mortgage servicers.
Specifically, the mortgage servicing settlement was entered into by the Maryland Office of the Attorney General, Department of Labor, Licensing, and Regulation's Office of the Commissioner of Financial Regulation, Federal government, and the nation's five largest mortgage servicers – Bank of America Corporation, JPMorgan Chase & Co., Wells Fargo & Company, Citigroup Inc., and Ally Financial Inc. (formerly GMAC).
The $960 million settlement for Maryland's distressed homeowners is broken down into the following: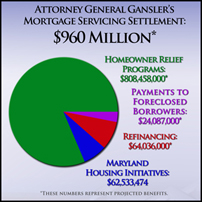 Homeowner Relief Programs: $808,458,000
Payments to Foreclosed Borrowers: $24,087,000
Refinancing: $64,036,000
Maryland Housing Initiatives: $62,533,474
The Maryland Attorney General, in a press statement, said that the settlement money will be specifically used for:
Individual payments to borrowers who were victims of these banks' unfair servicing practices and were foreclosed upon between January 1, 2008 and December 31, 2011;
Loss mitigation programs, such as loan modifications (including principal reductions), forbearance plans, and short sales for homeowners with loans serviced by the five big banks who are behind on or very likely to soon fall behind on their mortgage payments due to financial circumstances;
Refinancing for homeowners with loans owned and serviced by the five big banks who are current in their payments but who owe more than their homes are worth; and
Housing counseling and other state-level foreclosure prevention and housing programs.
The close to $1 billion settlement for Maryland's distressed homeowners is part of the $25 billion agreement entered into by the federal government, 49 state attorneys and the nation's five largest mortgage servicers.
U.S. Attorney General Eric Holder, in a press statement, said, "This agreement–the largest joint federal-state settlement ever obtained–is the result of unprecedented coordination among enforcement agencies throughout the government."
Attorney General Holder added, "It holds mortgage servicers accountable for abusive practices and requires them to commit more than $20 billion towards financial relief for consumers. As a result, struggling homeowners throughout the country will benefit from reduced principals and refinancing of their loans."
Meanwhile, Maryland Attorney General said, "The settlement will help thousands of Marylanders stay in their homes through enhanced loan modifications and other services. It also requires comprehensive reform of mortgage loan servicing standards, changing the way these banks will deal with customers in the future."
Maryland Attorney General added that the settlement "does not release the banks from criminal liability."
"It does not prevent individuals from bringing their own claims. And it will not stop our office from pursuing the banks over misconduct in the securitization of mortgages, fair lending violations, or other fraud. People should expect to see further action," Maryland Attorney General further said.
Whether you are a first time buyer, first time seller, empty nester, thinking about selling or buying a home, do contact the Guldi Real Estate Group. In Southern Maryland, the Guldi Real Estate Group is the number one real estate team.