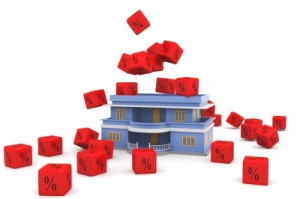 If you thought that mortgage interest rates will increase, you have been mistaken. Freddie Mac, one of the leading government backed financial issuers, monitors the rates in the real estate market to possibly predict how the real estate industry will turn out come 2013.
Towards the end of November, Freddie Mac reported that lenders are now offering an average of 3.32% on fixed mortgage loans with 30-year payment terms. While this may be a bit higher than the 3.31% in the previous week, it is still, nevertheless, a small increase to begin with.
However, not everyone can avail of this loan. The borrower has to pay an upfront fee of 0.8% to be able to avail of this low interest rate. That means you need to put up more cash on top of the down payment, closing costs and other fees associated with buying a home.
People who wish to refinance their existing loans can also enjoy the low mortgage interest rates. The rate of fixed mortgage loans for 15 year terms went even lower than that. The average rate went as low as 2.64% with the lender fees going even lower at 0.6%. This was higher than the previous week which was lower: 2.63 interest rate.
Even adjustable mortgage loan rates are still maintaining the low streak. It maintains a 2.72% fixed rate, which changes after 5 years. Despite the fact that it is low, borrowers are still opting for fixed loans because of the low mortgage interest rates that it can provide.
All of this is attributed to the incoming fiscal cliff that will happen during the end of December 2012. This means tax breaks and other fiscal benefits that businesses and lenders experienced will stop. It led to the increase in demand for insured mortgage bonds and safe Treasury securities from Freddie Mac and similar government backed financing institutions. Given that, you can say that the low mortgage interest rates happened because of this looming financial change.
The survey done by Freddie Mac only reflects rates that lenders have for low risk borrowers. Given that, you can assume that high risk borrowers will experience a higher interest rate. Not only that, this data is only true for rate and points and does not include any charges from third parties (e.g. appraisals, insurance, etc.)
This is mainly benefiting borrowers who displayed a good credit standing – which may not be the majority of the consumer market. Despite the evident improvement in terms of financial management, a lot of credit histories were ruined after the recession hit. This means there is a bigger percentage of high risk borrowers who may not enjoy the low rates being offered across most types of mortgage rates.
If you are interested to know more about mortgage interest rates and how you can benefit from this turn in your home buying endeavour, get a hold of Guldi Group. We will be happy to educate and guide you in securing a good deal for your mortgage loan. Get the most savings out of your loan while assuring that you will acquire the home of your dreams. Call us now.
To keep up with the latest in real estate be sure to subscribe to our blog by entering your email address in the upper right hand corner. You will receive our latest postings by email automatically.
Image courtesy of cooldesign for FreeDigitalPhotos.net