The National Association of Realtors (NAR), last Wednesday, revised or re-benchmarked its own home sales estimate from the original estimate of 5,157,000 average home sales for the 2007-2010 period to 4,420,000 or 14% lowered home sales estimate for the 4-year period.
This revised data shows that fewer existing homes were sold from 2007 to 2010 than previously estimated by NAR.
NAR derived its original home sales estimates through the multiple-listing services or MLSs used by real-estate agents.
The realtor association cited the following as the reasons behind the lowered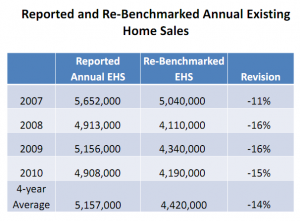 home sales estimates:
• Fewer (for-sale-by-owners) FSBO home sales and more REALTOR®-assisted home sales
• More Homebuilders seek REALTOR®-assistance in listing properties on MLSs
• Re-benchmarked figure excludes the second sale, while they are counted as twice in MLS count
• Some of the home sales are not an increase in home sales but are just due to enlarged sampled areas
• Double counting as one single property is listed in two or more MLSs
What does this revision or re-benchmarking mean to the public? NAR said the following are the effects of this data revision:
• Consumers are not impacted
• Real Estate Companies' financial statements are same as before
• For-Sale-By-Owner home sales fell drastically during the housing market downturn as more sought REALTOR® assistance
• GDP component from home sales will be lowered from 2007 to 2010 (Department of Commerce needs to do this)
• The home price elasticity from home sales is lowered (that is, it took an even bigger decline in home sales to bring about the observed home price changes)
NAR said it will continue to use the data from MLSs as "it is most timely available data."
The realtor association added that beginning next year, there will be an annual re-benchmarking or revision of data, taking into consideration the courthouse data.
Whether you are a first time buyer, first time seller, empty nester, thinking about selling or buying a home, do contact the Guldi Real Estate Group. In Southern Maryland, the Guldi Real Estate Group is the number one real estate team.